Research into the medical benefits of cannabis is ongoing and so far, scientists have discovered a whole lot about this marvellous "healing" plant. From its potential as a treatment for epilepsy to its suitability for cancer patients, cannabis really is a miraculous herb.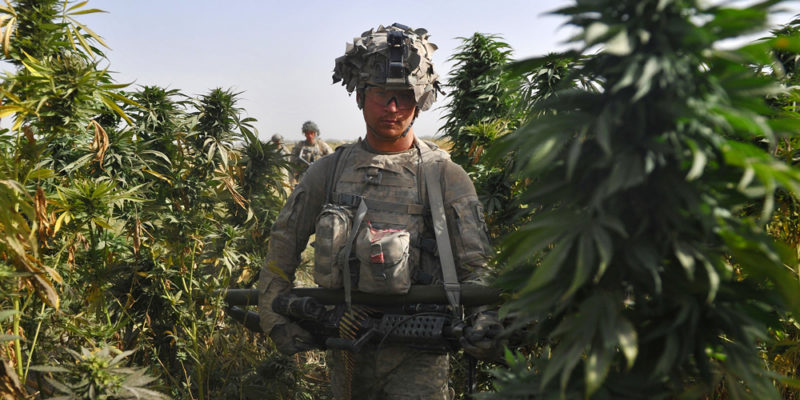 One particular subject pertaining to cannabis continues to crop up – how can medical cannabis help former members of the military?
Well, in many ways actually. Although scientific evidence may be lacking somewhat, plenty of quantifiable research can be gleaned to demonstrated cannabis' efficacy as a treatment for veterans with Post Traumatic Stress Disorder (PTSD).
Thousands of veterans have demanded medicinal cannabis legalization from federal and state legislators. After all, the plant possesses abundant therapeutic properties, which could effectively aid former soldiers in getting their lives back on track.
Thankfully, the voices of veterans are being heard, with PTSD now being included on the list of qualifying conditions for medical cannabis in 27 states. If you or someone you love has served in the military, take a moment to discover how the the green plant could potentially transform not just one, but thousands of lives.
Cannabis May Relieve the Symptoms of PTSD
Controlled research pertaining to the effects of cannabis and other cannabinoids on the symptoms of PTSD are limited, but probably not for much longer. More veterans are demanding cannabis to help them lead a happy life after serving in the military, which is enabling studies to be carried out.
There are many notable reasons to use cannabis as a treatment for PTSD, such as the fact that cannabinoid agents may offer therapeutic benefits for PTSD. The therapeutic effects of cannabidiol (CBD) and tetrahydrocannabinol (THC) may also enhance sleep quality, thus preventing nightmares associated with PTSD.
Preliminary studies conducted on humans indicate that treatment with cannabinoids could potentially decrease hyperarousal and the frequency of nightmares. There is, however, a need for large-scale, randomized, controlled studies that explore the specifics of this.
Some scientific studies in animal models have indicated the potential of cannabinoids for reducing and preventing fear, anxiety, and stress on emotional function and memory processes. When cannabinoids were administered shortly after trauma exposure, the cannabis compounds were shown to prohibit the development of PTSD-like phenotype.
Another reason why cannabis may be suitable as a treatment for veterans suffering from PTSD is that cannabis can have anxiolytic and euphoriant effects. Since a lot of former military workers battle with feelings of depression, cannabis could restore a sense of happiness.
Cannabis Helps with Chronic Pain Relief
After serving in the military, it is common for veterans to experience severe, chronic pain. While opioid pain relievers like morphine and codeine may provide temporary relief, they can prove deadly when consumed in large quantities or, when combined with other opiates. Moreover, opioid drugs can lead to addiction and prolonged suffering. Cannabis is quickly replacing opiates as a natural, safe alternative.
Many medical cannabis patients are being prescribed the plant for pain relief. Former veterans who experience lingering pain that does not subside within 12 weeks will be diagnosed with chronic pain. The National Institute of Health reports that chronic pain can persist for months and in some cases, years.
Research into cannabis' efficacy as a natural painkiller are ongoing, but numerous scientific studies have exposed the plant and it's cannabinoids for their ability to treat chronic pain, neuropathic pain, and spasticity resulting from multiple sclerosis (MS).
Cannabis Relaxes the Body and Mind
Perhaps one of the most common underlying causes of veteran suicide is poor mental health. Anxiety, depression and stress can leave former military workers feeling hopeless, which in many instances, has resulted in them tragically taking their own lives.
Cannabis is known for producing the euphoric "high" that is often associated with this plant's psychoactive compound, THC. Some of the plant's constituents, such as CBD, are non-psychoactive, but may still enhance mood and instill feeling of calm. This makes it possible for veterans to medicate with cannabis, without experiencing the mind-altering effects (unless they want to, of course.)
A good option for veterans who don't want to smoke cannabis in order to feel calm and relaxed is edibles. When cannabis edibles are infused with cannabinoids, they offer a longer-lasting effect. Best of all, edibles can be consumed on the move and they come in many forms, from chewy sweets to savory snacks.
Therapeutic cannabis is often touted as a "social lubricant" and therefore veterans have the option to enjoy its mind-transcending effects in social settings. Perhaps even with fellow veterans.
Final Thoughts
Upon stepping foot inside a dispensary in San Francisco, veterans will have plenty of medical cannabis options at their disposal. Discreet options include tinctures, patches and edibles. For those with low-THC tolerance, microdosing may be an option. Alternatively, veterans can dose up on CBD-rich products. Social options range from dabbing and smoking to dabbing full-spectrum oil. Localized pain can be relieved using balms or transdermal patches.
Are you a veteran who has found relief from PTSD symptoms or chronic pain through medicinal cannabis? Leave us a comment with your experience in the section below.